zaleti
, who's hand injury has been labelled 'day to day' by Doc Cottle and his support staff.
In the spirit of the wooden spoon, lets head back to the miniseries and pick on that shiny piece of gold on Adama's left hand.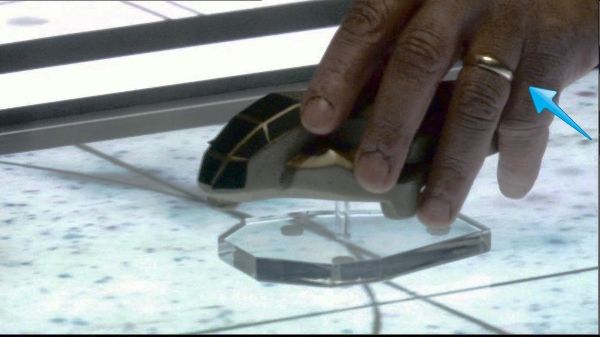 Countess words of fanfic have been spent, hours of discussion tabled, on why Commander Adama is still wearing his wedding ring 20 YEARS AFTER HIS DIVORCE!!! Tendencies toward posthumus nuptials aside, why was it there in the first place?
Was EJO simply lazy and forgot to take it off?
Was the ring meant as a symbol of the great commitment that Adama shows family and friends?
Does it symbolize his inability to let go?
WHY THE FRAK IS HE STILL WEARING IT AFTER OBVIOUSLY BEING INVOLVED WITH ROSLIN???
Grab your spoon, it's time to pick apart the ring!
Hey, it's lars, filling in for the master of the spoon,
This week's rec is interesting for two reasons: it's Saul Tigh's perspective which, while cutting, shows a remarkable amount of empathy, and it's from early in the series, just after Billy's death.
Title: A Particular Compassion
Author:
mondavis
Rating/Warnings: none
Words: 945
Author's summary: "If this whole day hadn't been so frakked up, I might have found it funny that of all people to see the great President Roslin finally break, it would be me."
Why check this out: A small episode spackle from an amazing writer, A Particular Compassion describes Roslin in the morgue with Billy through Saul's eyes (when he had two :D). It's still early in the series, and this first real impression of the human woman behind the Presidency is raw and beautiful.
A Particular Compassion
Enjoy!
I always find it fascinating when an author chooses to look at Bill or Laura or both from the perspective of one of the other characters in the series: Billy's honesty, untouched by spiritual fervour, Lee's intimate perspective as his father's son, Kara's uncensored thoughts. It adds an objectivity that's hard to write from within our OTP's heads.
sine qua non
"Those things we deem essential, without which we cannot bear living. Without which life in general loses its specific value, becomes abstract."
(I realize these would look more intriguing if I posted the graphic directly, but I'm weird about doing that with other people's art and gifs. :) Besides, while you're at the link, check out ofhouseadama's other posts and work. she's pretty great!
yes, it's time for another tumblr Tuesday!
caps from
frak-that.com
What a difference a little pixelation can make!
Title: Mother's Day
Rating: T
Word Count: ~700
Disclaimer: don't own them.
Summary: Bill and Kara team up to give Laura the best Mother's Day ever.
A/N: Happy Mother's Day everyone.
Current Music:

Nirvana - On a Plain
I am selling this 16th century corset "as-is" on Ebay here:
http://cgi.ebay.com/ws/eBayISAPI.dll?ViewItem&item=151043334148
Please see the listing for all Information, Starting bid is $75 including shipping.
Thank you!


Let's imagine some nail lacquer company has released "The A/R Collection" (I'm sure we've all seen O.P.I.'s themed collections in the dept stores - you know what I'm talking about).

Your mission this Thursday: add a color to the collection ... and name it!

You can describe the color, in any way you like. Texture and depth too! Glitter, flake, duochrome, sand, shimmer, holo, jelly, cream, anything goes. Flowery descriptions most certainly accepted but not required. You even can swatch it using a graphics program and post the swatch if words fail you.

You can say why or leave it to speculation. :)

The one rule: the lacquer name must be A/R-related! Puns allowed.

Here's an easy (and northern-hemisphere seasonal) one to start us off:

Coming For All Of You: black jelly base with deep teal shimmer & micro-flecks for light.
(Why I picked it: Makes me think of delicate but badass Laura, baseship color scheme, and frankly, we all need a little sparkle in our lives sometimes. Especially when things are looking dark for a loved one...)

Have at it, people. Let's build a collection and then try to sell it to O.P.I.!
Right, I can only stir with one hand this week, so frivolity it is.
bsgconfessions tumblr
. It made me laugh, but then I thought, 'yeah! you know what? I kinda feel the same way.' Mind you, it's just a passing thought and not something I'd change even if I could. Somehow, it works. (for me, anyway.)
So, what do you think? Is his response perfect as is? Or would you like to have heard him say those three little words back to her? Has your opinion changed since you first saw the episode?
Ok so this was posted on the